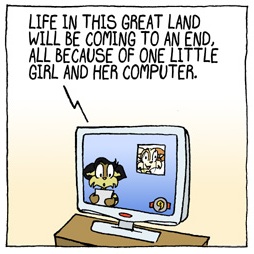 The InternEt is a Precocious story arc. It ran in 2009 and consisted of strips #373-399.
Central character(s)
Edit
*** The InternEt ***
*** Commiepingo ***
Tiffany receives a laptop computer. The nation itself could be at risk. Tiff's online episode later inspires a shrewd blackmail exchange.
*** The InternEt ***
Gene's brother Mike has swung by the Et house during a business trip. He presents his niece Tiffany with a laptop computer as a birthday present, unaware that it is actually Frida's birthday. Tiffany hops online and immediately starts a blog. Her friends are horrified to discover that her updates, which she sincerely believes to be dream logs, are records of their destructive history and secrets. Sky also becomes paranoid about her daughter's continuous online presence. To break Tiff's addiction, her close friends hire the worldly Dionne to explain the horrors of the Internet. This remedy by fire works all too well; Tiffany tearfully renounces the Internet, collapsing in a terrified wreck.
*** Commiepingo ***
As part of the fallout from the secrets posted to Tiff's blog, Autumn has been eternally grounded by her mother. She gains strong leverage to fight back, however, when she threatens to tell her dad Soren about her mom's anonymous "Commiepingo" blog, in which Ivy details her full betrayal of library science. Ivy has no recourse to giving in until Autumn lets an asterisk slip into her demands: although no one else knows about the blog yet, Autumn has already spread her mom's screenname around as an in-joke. The two Pingos reach a tentative compromise: Ivy will only ground Autumn for a week, while Autumn will keep quiet about the blog and never again employ her knowledge of it to extort mercy for her actions.
External link
Edit
---
Community content is available under
CC-BY-SA
unless otherwise noted.