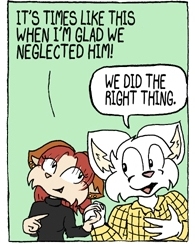 Sydney and Joseph Oven are the parents of Bud Oven. They live in a house in the Sapphire Lake region of Gemstone Estates. Ever the unconventional pair, they took Sydney's last name instead of Joe's and have spent most of the past ten years letting Bud do as he wishes. This method of "parenting" has perhaps produced the expected result.
The couple first met when Sydney modeled for Joseph's art class. He eventually requested that she be his muse for a personal art piece, and their trust with each other gradually developed into a relationship and marriage. Sydney and Joseph have two children, the college-aged Casey and the 10-year-old Bud.
Sydney Oven
Edit
Sydney Oven is a businesswoman and a dynamo. She owns and manages her family's city apartments. Sydney spends much of her life in meetings and discussions and, as a result, is seldom at home. Whenever she is not out and about, Sydney makes it her personal goal to eagerly spend "Mommy Relaxation Time™" with her Nintendo DS. She is quite adept at handing off her household duties.
Joseph Oven
Edit
Dr. Joseph Oven née Brungster is giftedly eccentric. He is a fountain of self-merriment who bounces between his basement laboratory and his professional job as the Poppinstock school counselor. Joseph is as disconnected from the house as any other Oven, yet he retains a cheerful relationship with his equally quirky wife and son. Joe is quick to jump in with the Sapphire kids' schemes, much to the school's exasperation.
The other parents
Edit
Community content is available under
CC-BY-SA
unless otherwise noted.