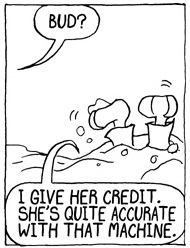 Let it snow! is a Precocious story arc. It ran in 2010 and consisted of strips #419-443.
Central character(s)
Edit
Bud and Casey escalate their sibling rivalry when a blizzard slams Gemstone Estates and traps her at home. The other families in Sapphire Lake enjoy the snowfall.
It's a new year in Gemstone Estates, prompting the Gemstone kids (plus Roddy) to vow appropriate New Years' resolutions. Casey dashes to escape the Oven household madness, only to be rebuffed by a massive snowstorm that has trapped the Gemstone residents inside their houses. The other Sapphire households enjoy the snowfall and school reprieve. Bud and Casey, on the other hand, merely intensify their battle with snowballs and catapult devices. As the snowstorm begins to subside, the four Sapphire dads go out under varying emotions to shovel their driveways clear. Casey finally departs for university again, though not without a parting shot at her brother.
External link
Edit
---
Community content is available under
CC-BY-SA
unless otherwise noted.