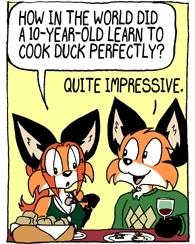 Ivy and Soren Pingo are the parents of Autumn Pingo. They live in a house in the Sapphire Lake region of Gemstone Estates. Both of them are devotees of library science and the art of cloning (via which their family reproduces). Setting their standards high allowed them to meet and marry, becoming a stunningly symmetric couple. They often remind Autumn of her inevitable future: "Library science!"
The couple started their relationship when they first met at college. They continued on to the same graduate school. Their extraordinary similarities kept them attracted to each other throughout their educations. Finally, they at last married each other, likely after their graduations. Their only child to date is the 10-year-old Autumn, who was cloned as all Pingos are.
Ivy Pingo
Edit
Ivy Pingo née McBean is a vivacious woman. She is savvy enough to match her daughter's manipulation and displays a remarkable ability to temper the Sapphire group's most outlandish plans. To her husband's dismay, her transition to housewife has dampened her enthusiasm for library science. She runs an online blog under the alias "Commiepingo" that reflects her current state of mind and affairs. This has led her to become employed as an entertainment writer for the local paper. In more recent times, she has also come to work for the library, though she prefers to Facetime into meetings when she can.
Soren Pingo
Edit
Soren Pingo is unflappable. He handles anything that his daughter tosses his way with composure and dexterity. Soren says what he is thinking, unafraid to parent out of piercing candor rather than constant sympathy. He truly loves his family, in his own bizarre way. Not one for handling chores, Soren prefers to hand mundane labor off to Autumn. He is not aware of the full extent of Ivy's deviance from the realm of library science.
The other parents
Edit
---
Community content is available under
CC-BY-SA
unless otherwise noted.