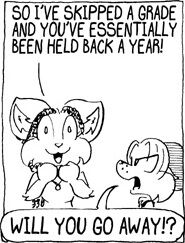 Casey's return is a Precocious story arc. It ran in 2009 and consisted of strips #401-418.
Bud's sister Casey returns home during college winter break. Sibling rivalry whips up a firestorm.
Sydney Oven is uncharacteristically cleaning and straightening up the Oven house. Bud guesses his mom's intent with extreme trepidation: his sister Casey is staying at home during her university's winter break. Casey arrives home soon enough. She and Bud immediately resume their contentious ways. Ever the boastful peacock, Casey continually reminds Bud that she skipped a grade while teasing that he has "essentially been held back a year." Bud calls together the Supervillain Union (including new ally Target Man) to knock his sister off her perch. Casey responds by assuming her own evil persona, the Doomgineer.
---
Community content is available under
CC-BY-SA
unless otherwise noted.